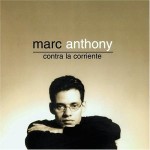 After several years, while listening to salsa music, my iTunes shuffle mode was kind enough to bring up a very classic song
"Contra La Corriente" by Marc Anthony
. This song, and album, was definitely one of the things that got me truly addicted to salsa music. After I had started dancing salsa for a few months in Ames, Iowa, I remember playing this album over gazillion times in my dorm room in college at Iowa State University - which was a stark contrast to the Alternative/Rock music every other person played in their room.
Since it brought so many salsa memories, I thought I'd recommend it to new salsa enthusiasts that may not know this famous song or album. I think it was this album that really defined Marc Anthony as a great salsa artist.
Here is a video of Marc Anthony performing Live the song. I'm not sure why he's dressed like
Neo from "The Matrix".
https://www.youtube.com/watch?v=voP66WHyW0c
(via: @
Persaudified
)