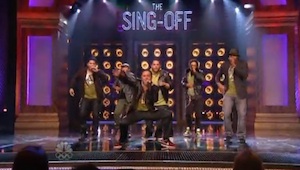 If you didn't catch the new NBC show called "
The Sing-Off
", you missed something pretty cool. The Sing-Off is a competition which mixes the aspects of
a capella
singing, show choir (similar to the TV show "Glee") and American Idol. Keeping up with American cover songs remixed into Salsa-like rhythmz, a group from my hometown of San Juan, Puerto Rico, called
NOTA
. NOTA is the term for a musical note in Spanish. They sang a salsafied version
Jason Mraz's "I'm Yours"
in
a capella
that I think you are sure to enjoy. I think they mixed the song styles very well, even including a nice big symbal-ish clave as a transition point. I'll be waiting for their album if they keep it up!
https://www.youtube.com/watch?v=Uu-6JLy3Cks