---
Posted on about 4 years ago

If you have ever wanted to learn how to dance salsa, this salsa dance lesson video is the place to start. This video will take you from the basics steps of salsa to knowing how to do right turns, cross body leads with turns and the famous 180 move. Enjoy!...
---
Posted on about 8 years ago

This salsa dance lesson video we teach you what is called the Salsa Swing step or the Lazy Turn. It is a small variation of the Lindy-Hop or Swing dance basic step adapted to salsa dancing. It is a great move to use when, as a leader, you are still thinking which set of dance patterns to perform next....
---
Posted on over 8 years ago

Given today is addicted2salsa's 4th birthday, it is time for a new salsa dance video. There have been several salsa dance videos of patterns and steps over the years, however, I wanted to address a few fundamentals that sometimes are not addressed in some salsa dance classes. Hopefully, for some of our beginner dancers, this video will make your basic step look and feel more comfortable at the club. For our fans looking for something more complicated, don't worry - it is on its way....
---
Posted on almost 9 years ago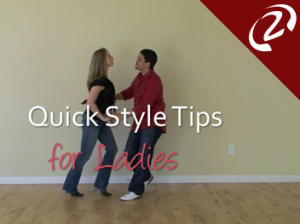 If anyone out there is wondering, "what can I do to improve that doesn't involve the natural process of getting good over time," I have some answers for you. Using body language (one of the main ways people communicate), you can improve how you look when you dance simply by remembering these easy tips. Look at it this way...for dancers who are taking classes or doing what they can to improve their dancing over time, these tips will help you look good while you are in the process of learning. Often, when a dancer is learning something new, the basics are thrown out the window. What ends up happening is that the body language suffers, so while you may have a great new footwork pattern, you've sacrificed some important basics. While you learn, keep these tips in mind, and you'll always look great!<br/> 1. Chin Up <br/>The saying, "chin up" is popular for a reason! With your chin down you come across as self-conscious or sad, hence describing personalities as generally "down" or "up." When dancers learn something new or lack confidence in what they are doing, the chin tends to go straight down subconsciously. By reminding yourself to keep your chin up every once in a while, you will give off the perception that you are confident and happy with the dance. An additional benefit is that keeping your chin up enables you to literally "look up to" your partner as you dance, which will be understood as a sign of respect....
---
Posted on almost 9 years ago

In this episode, we will provide you with three great ways to improve your salsa dance spins. While most of them tend to be 'known' to most intermediate dancers, we have noticed it does not get addressed soon enough to early beginners. Here are the summary of items this episode will cover:<br/> <br/> Frame and Position <br/> Dance Prep <br/> Spotting...