'Music' Dance Articles
---
Posted on over 4 years ago

Having trouble finding the beat in salsa music? This salsa dance video lesson visual practice guide will help you become better at marking your steps to the music to make sure you are dancing on the correct salsa beat. (Hint) The clave is everything!...
---
Posted on over 4 years ago

Si quieres aprender a encontrar el ritmo de salsa y poder marcar tus pasos basicos de salsa a la música, hemos hecho este video especial para tí....
---
Posted on about 9 years ago

I am very happy to have found out that interest in learning to dance on2 (NY/PR) timing has started becoming very popular on addicted2salsa.com. To help everyone become more familiar with the clave and the VERY important conga slap, I haveeditedthe original salsa clave track I created in Garageband for Episode 25 : Finding the Salsa Beat and modified it for an easier learning experience. This should help everyone make it part of their daily schedule to play the track at least 3 times a day while they do some other task. Doing this will allow your brain to sink-in that conga beat and rhythmsubconsciously- so that it starts becoming easily recognizable by your ears....
---
Posted on almost 10 years ago

This is one of the funniest videos I've seen to date on youtube that has been stuck in my head. It is not salsa related, but I'm sure you'll find it entertaining as well. The video is about how to romance a girl with just . Very impressive. And a very catchy song!...
---
Posted on about 10 years ago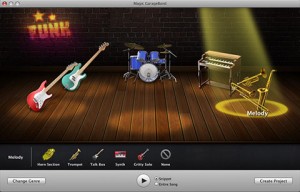 After you get a Mac, a lot of fun things happen. I decided to put my compusic (computer+music) skills to some more good use an make a few interesting Salsa tracks with a program called GarageBand. While I was at it, I made three different versions of this salsa dance soundtrack. Here is the first one: an interesting salsa music trumpet solo with some mixed in jazzy piano, cowbell and congas. Let me know what you think and of course - enjoy!...
---
Posted on over 11 years ago
I can just feel all the hate mail that is already headed my way. "Oh, here goes Anthony, talking about On2"... but before you hit that send button - first read the article....
---