---
Posted on about 6 years ago

Learn salsa dance steps and moves for free! In this salsa dancing lesson we show you how to perform the salsa dance moves we call the 'snapalicious'. For more free salsa dance lessons and salsa dance videos, please visit our website: http://addicted2salsa.com/videos . You can also follow us on Facebook @ http://facebook.com/addicted2salsa or on YouTube http://youtube.com/addicted2salsa...
---
Posted on about 9 years ago

In this episode of Addicted2Salsa, we go back to the basics to help you learn how to do a 180 Cross-Body Lead with a Turn (*a few others call this the 'Coca-Cola' move). This move is a lot simpler than it may appear. We first start off refreshing you what a Cross-Body Lead with a Turn looks like and from there add-on the extra dance steps required to do a half-revolution. Getting the 180 degree cross body lead will help build the salsa framework for you to execute the 360 cross body lead - which will show you in a future episode. If you have any questions, feel free to post them at http://facebook.com/addicted2salsa ....
---
Posted on about 9 years ago

Kelly Rice over at Ritmo Bello wrote an article providing 5 tips on how to dance on a budget during tough economic times. While I leave it to you to check out her article for the details, she mentions: taking group classes, getting involved with the community, practicing everywhere, watching others dance and setting up a trade agreement (bartering).<br/><br/>Here in San Diego, on average, a group class costs around $10-$13 and cover costs for a club are $8-$10. If you then add the micro-expenses related to salsa (gasoline, bar drinks (water), clothing and an extra shower a day, etc) - it adds up very quick if you go out dancing several times a week.<br/><br/>Knowing that fewer students are able to spend that much in salsa dance classes, paying for gas, parking and cover costs at the club, I decided to add my two cents to help you 'recession proof' your salsa lifestyle. While I am not an economist or financial adviser, here is my list of ways to help your salsa lifestyle while on a budget....
---
Posted on over 9 years ago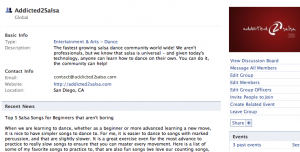 I have seen several more salsa dance groups and companies get on the Facebook bandwagon. This brings a lot of excitement because it allows people from different salsa scenes to find one another using the tools that we use for our social habits. Since, using these tools have grown in popularity, I'd like to just remind everyone of our groups so that they (cough..cough..) grow and become more (cough..cough..) popular. :-)...
---
Posted on over 9 years ago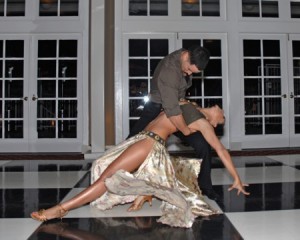 ANNOUNCEMENT! We have just been informed by Juan Carlos Hernandez, one of the best NY on2 style dancers in San Diego and co-director of Majesty in Motion, that he will be providing a FOUR HOUR Salsa Dance Workshop on1 for beginner and intermediate dancers. This event will take place in San Diego, CA- so if you live close to the area, don't miss this event!...
---
Posted on about 10 years ago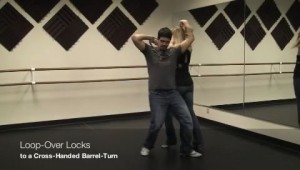 Well, after getting great feedback from all of you, here it is - a more complicated salsa pattern. It is a very long pattern, so take it in strides and small bites. We have named the individual moves to help you piece the entire salsa combination together. Now, because it is Valentine's Day (soon) - you can have something to practice with that special someone :-) .Enjoy and if you have questions, please ask it at our forums http://addicted2salsa.com/facebook/ !...
---
Posted on about 10 years ago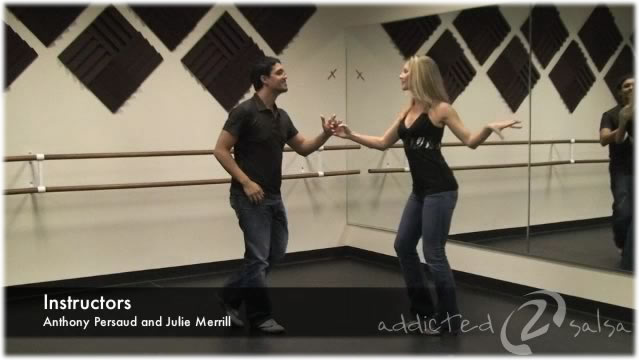 So, here we are again with a simple salsa dancing move for you to mix it in to your other moves. Remember, it is not about having multiple long combos, but about putting smaller ones together in different orders.That will keep your moves fresh and keep the ladies guessing what you will do next. Additionally, for those who are thinking about on2, I make a small note for you to pay attention to the counting rhythm when performing the move. Enjoy!...
---
Posted on about 10 years ago

For those who did not attend this year - the World Salsa Championships were held in Orlando, Florida this year. Here are the results (very similar to last year - however with some new folks). For the latest scores for all divisions see 'Other sources' below....