---
Posted on over 6 years ago

We are now back with a new salsa dance video. For this salsa dancing move, we wanted to challenge ourselves in chaining as many terms as we could together. Later we realized that it wouldn't fit in the video show title. By the way, are you ready for a new season of "So You Think You Can Dance?"...
---
Posted on about 9 years ago

In this episode of Addicted2Salsa, we go back to the basics to help you learn how to do a 180 Cross-Body Lead with a Turn (*a few others call this the 'Coca-Cola' move). This move is a lot simpler than it may appear. We first start off refreshing you what a Cross-Body Lead with a Turn looks like and from there add-on the extra dance steps required to do a half-revolution. Getting the 180 degree cross body lead will help build the salsa framework for you to execute the 360 cross body lead - which will show you in a future episode. If you have any questions, feel free to post them at http://facebook.com/addicted2salsa ....
---
Posted on over 9 years ago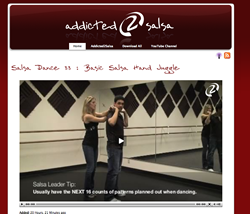 We have just finished relaunching the Salsa Dance Lessons website to make it easier for everyone to view and download all the current and future episodes of the #1 Free Salsa Video Lesson podcast. With this new website, you should be able to view the videos in higher quality (even the old ones), in fullscreen and you should be able to directly download all the videos to your desktop. This should help make salsa dancing more accessible to everyone around the world....
---
Posted on almost 10 years ago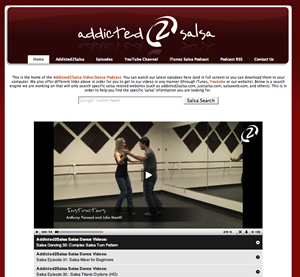 I have received a lot of email about our free salsa dance video lessons - I've heard it has become popular (who would have thought?). Well, to make it easy for many people in the world to be able to view the podcast and most of the latest videos, I have updated the salsa dance videos website with a video player and multiple links to the different formats of the video feeds. You can watch our Youtube Channel, subscribe to our iTunes Salsa feed, or just read most of the video articles straight from our website!...
---
Posted on over 10 years ago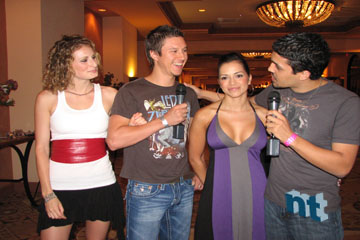 What's the sweeter bonus? A weekend in beautiful Palm Springs, CA? Or a salsa congress and bootcamp in the 2007 Salsa Summer Splash? Maybe it's a draw. Regardless, I had a great time at the event. Palm Springs gets very crowded with salseros in the months of July and August. Al Espinoza's event somehow pulls a large following, despite the fact that his party is the third event (in 8 weeks) in the desert oasis. Both the workshop/bootcamp portion and the performances/parties were well attended. Want a reggaeton class? Check. Bachata or salsa shines? Yup. I'm trying to recall if there was a zouk workshop. Wanna talk about some great instructors? John Narvaez and Liz Rojas from Salsamania taught an intermediate/advanced on2 pattern class. The bay area team broke down the pattern thoroughly, and even split the class between guys and girls to get their respective pieces down. John also took some time outside of the class to help me with a difficult section. Anthony and I really enjoyed the session.<br/><br/>In addition to meeting Sir Anthony Persaud of San Diego for the first time, I met Pauline (Miss Flare), Karlos, and a bunch of other salseros from the Bay Area, LA, San Diego, etc. Great company. On the performance tip, they started pretty close to their scheduled time, within a half hour. Some of the standout routines included Majesty in Motion, John Narvaez and Liz Rojas, Pretty Boys and Girls, Salsabor y Cache. Click on some of the images below for a sampling of the videos. Thanks to Anthony for doing the interview with Dave Stein and Majesty in Motion. Keep the podcast going for the community!...
---
Posted on over 10 years ago
I would like to send a thanks to Jan for sending me this link to this article. It talks specifically on the comparison of the salsa scenes portrayed in 'El Cantante' the movie compared to the salsa scenes of today. You can find the article here: Salsa Spins Beyond its Roots....