---
Posted on about 8 years ago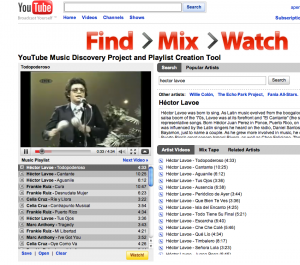 YouTube, distributors of the highly popular salsa dance instructional videos of addicted2salsa, have launched a new music feature on their website! The new website feature allows you to type a salsa artist or song, and create a salsa music video playlist with videos that are related to that particular artist or song. This new feature is very similar to Pandora (no, not the Avatar type), where you can create a 'music radio' station based on artists that sound similar to a song or another artist....
---
Posted on almost 9 years ago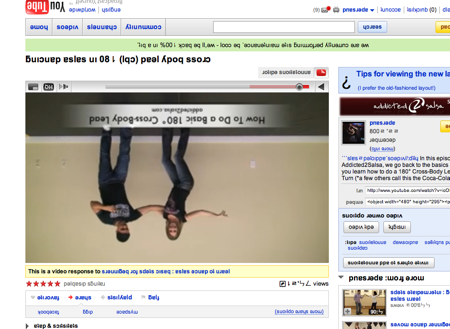 Happy April Fools Day everyone! Today only, you can watch our salsa videos in a brand new perspective on YouTube! (everything is flipped). All you have to do is find a salsa lesson or social dancing video, and in the URL field of your browser add a &flip=1 at the end. I'm looking forward to your funny comments below....
---
Posted on over 9 years ago

YouTube finally made public the new features we had been testing a few weeks ago: Annotations. I believe this feature adds a tremendous amount of value to dancers viewing salsa videos....
---
Posted on almost 10 years ago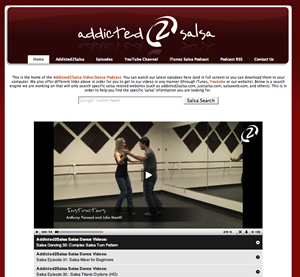 I have received a lot of email about our free salsa dance video lessons - I've heard it has become popular (who would have thought?). Well, to make it easy for many people in the world to be able to view the podcast and most of the latest videos, I have updated the salsa dance videos website with a video player and multiple links to the different formats of the video feeds. You can watch our Youtube Channel, subscribe to our iTunes Salsa feed, or just read most of the video articles straight from our website!...
---
Posted on about 10 years ago
The wonderful (possibly future co-host) Julie sent me these videos, and I found them to be inspirational. It is of course a biased list since you have some of my favorite-styled dancers there....