World Salsa Championships 2009 Dance Videos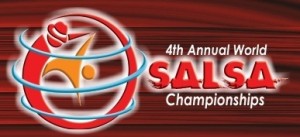 If you were interested in finding out about the results and dance performances that took place in December in regards to the 2009 Salsa World Championships, look no further.
The great folks at ilivesalsa have made a good compilation page of all the salsa performance videos of the event so that you can watch them at your leisure. As a summary, here are the results from the Salsa Championship website:
Winner On1 Division: Liz Lira and Christian Oviedo from Los Angeles, CA
Winner On2 Division: Anya Katsevman and Luis Aguilar from New York, NY
Winner Cabaret Division: Jenny Rodriguez and Jonathan Landa from Cali, Colombia.
Winner Team Division: Ritmo y Sabor from Oaxaca, Mexico.
Congratulations to all the salsa dancers that participated. You are all amazing dancers!
[Videos viailivesalsa]
[Results via World Salsa Championship]