1st San Diego Salsa Festival 2007 Nuevotec Review
%q{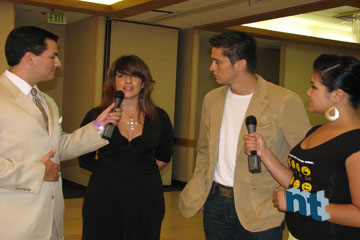 "… Everybody else in the world or the country basically we're saying that San Diego didn't have a big enough salsa scene. And so my husband and I set out to prove them wrong, and prove them wrong we did." - Tulane Rivera. 2007 marked the return of the large format event to San Diego with the 1st annual San Diego Salsa Festival. Others can add more insight, but the last large event in the beautiful city was held in 2005 (San Diego Congress). The quote from Tulane Rivera is in regards to the growing salsa community. That very community created the demand, and Angel and Tulane Rivera from A Time To Dance Studio (with Albert Torres Productions) helped fill the need. The married couple talked about their salsa experiences outside California, having themselves traveled to different parts of Europe and Asia. So they focused on securing a few key performers (and instructors) outside of their area, including Hacha y Machete, Tito and Tamara and Jayson Molina from Puerto Rico. Additionally, the promoters also talked about the level of dancing in San Diego increasing dramatically, and that locals aren't necessarily looking at L.A. anymore for its trends.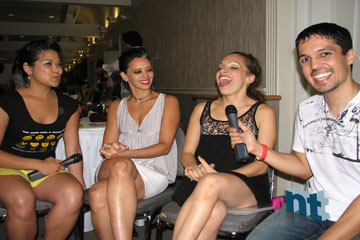 While I wasn't able to attend any classes, (from what I understand) the workshops were quite successful, with full passes almost selling out due to lack of physical workshop space. Of course, you could not have a San Diego event without its incredible local talent such as Majesty in Motion, Iran Castillo, Mario and Sarai, Salsa Divas, Juan and Susie, etc.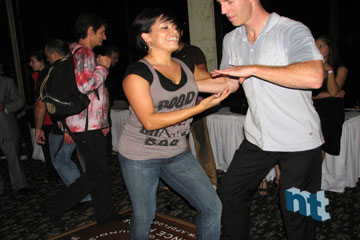 I was only able to attend the Saturday night party, and wish I could have extended my stay. When one's camcorder lens instantly fogs up after immediately entering the main dance ballroom, one can make some simple observations - 1) There's too many people dancing and 2) There's not enough air conditioning and 3) the venue is too small. The venue was fairly large, and there was a massive amount of people social dancing filling the room up to capacity. Great turnout? You betcha. I also saw a few out of town social dancers from places such as NJ, NY, and Florida. The future looks bright for the 2008 festival, also in late September.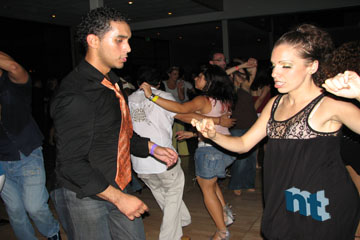 }