How to Recession Proof your Salsa Lifestyle
Kelly Rice over at Ritmo Bello wrote an article providing 5 tips on how to dance on a budget during tough economic times. While I leave it to you to check out her article for the details, she mentions: taking group classes, getting involved with the community, practicing everywhere, watching others dance and setting up a trade agreement (bartering).Here in San Diego, on average, a group class costs around $10-$13 and cover costs for a club are $8-$10. If you then add the micro-expenses related to salsa (gasoline, bar drinks (water), clothing and an extra shower a day, etc) - it adds up very quick if you go out dancing several times a week.Knowing that fewer students are able to spend that much in salsa dance classes, paying for gas, parking and cover costs at the club, I decided to add my two cents to help you 'recession proof' your salsa lifestyle. While I am not an economist or financial adviser, here is my list of ways to help your salsa lifestyle while on a budget.
Take classes from YouTube for free
I don't make a living teaching how to dance salsa, therefore, I am at liberty to say that you may be able to skip attending group classes (*and possibly private classes). Most group classes are about teaching you footwork/shines and structural patterns. You can easily learn great patterns by going to video sites like
YouTube
,
Truveo
or
Yahoo! video
(among others). There are plenty of videos to provide you new inspiration for moves and enough
pause-rewind-play
functionality to learn them.
https://www.youtube.com/watch?v=Z203PA2SSts
Pandora and Last.fm are your music friends

Looking to listen to new salsa music for free? Look no further than these two great services. I have written about
Pandora before here
. Last.fm This service let's you create music playlists based on your preferred artist or song. Given your selection of songs, it will find songs with a similar style and play them next. This is a great way to discover new salsa artists.

Last.fm shares the a similar 'music recommendation' style service as Pandora. However, it goes one step further and provides you recommended events, concerts or groups to join based on your musical tastes. All this can be shared between friends in order to share newly discovered artists and songs.Have an i
Pod Touch
or an
iPhone
? You are in luck! There are a free Pandora (
iTunes Link
) and Last.fm (
iTunes Link
) applications for these devices which allow you listen to all this plethora of salsa music on the go. Again - all free! Technology loves salsa.
https://www.youtube.com/watch?v=041mzOzriwM
Throw your own salsa parties and socials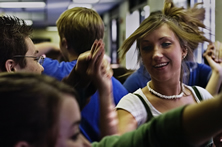 During the summer, when gas prices hit $5 per gallon in the US (
graph
), I had to cut back on salsa dancing a bit. Driving 15 min to the club, the cost of parking, paying for water and the entrance cost just for an average night(
*
) out was sometimes not worth it. A few of the members of the salsa scene in San Diego started having great once-a-month social parties at a friend's house. Anyone who attended could contribute something to the party (water, ice, snacks, ice cream cake..). While, these do not replace a real salsa dance club, it does provide a different atmosphere of having your close social circle with you while you dance further into the morning, long after most clubs finished locking up.What about the floor, you may ask? If the host doesn't have hardwood floors for the party, you may still dance oncarpet. When dancing on carpet, use socks or jazz shoes and try to minimize spins (great way to force you to do body movements). If you are willing to spend a little, and help our economy, you can go to
Lowes
or
Home Depot
and buy thin wood panels/tiles that can go over the carpet. All of this is not geared to the hardcore dancer - it is all for fun while minimizing cost. If you have trouble organizing the events, I suggest using websites such as
meetup.com
or
facebook.com
that have group event planners.
*
possibly due to a bad DJ with terrible music selection.
Collaborative Learning with Salsa
One of the best ways to learn salsa dancing is to instruct it. You and your friends can decide on a place to meet (maybe share the cost of renting a studio space for 1 hour) and use it to teach yourselves new patterns, shines or techniques. One of your friends might be good at doing some patterns, while someone else might be perfect for teaching some footwork steps. The collaboration of ideas and knowledge will help everyone learn new material.Back in the days of
Descarga (Ames, Iowa)
, we didn't have instructors or places to dance. It was just a few of us that loved salsa so much that banded together to form a group to teach ourselves. While these 'collaborative lessons' started in our dorm room, it slowly grew to accomodate a much larger circle of friends. Being poor college engineering students (not due to the economy), we tried to find all freely available resources that we could use to have all of us learn to dance. The final cost of our weekly dance lessons by having all of us collaborate: $1.50 (compare that to $13 per hour that is being charged in California). Remember, you can even use our
salsa dance videos
as your lesson material. Have questions about something before you teach it? Try the
forums
. If we don't answer, someone in the world salsa scene hopefully will.
Addicted2Salsa.com
is all about collaboration to make salsa accessible. Ok, enough plugs.This is not an exhaustive list of everything you can do to really keep your salsa costs down, but it should add to the list.
If any of you have any other suggestions, please share them with us in the comments section below!